December 3, 2021
Year 4's best footballers proved themselves to be the very best of the best, as they took victory without losing a match in a 12-school tournament in Clapham in November.
One of the star players, Adam (4L), reports: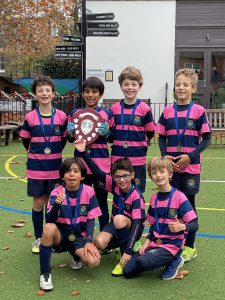 When we arrived at Thomas's Clapham for the five-aside tournament, everyone was excited about it as we looked at all the other schools there. There were 12 teams in the tournament and WUS played at the farthest five-aside pitch at the school grounds.
Our first match was against Rokeby, who were one of our toughest opponents; we drew 2-2. Next, we beat Thomas's Clapham A 2-0, with Sebastian and Hugo scoring. We had just under a 30 minute break before we played Thomas's Fulham's B team, winning 5-0 with Sebastian scoring all five with ease!
Before we went out to play the next match, we were offered a half time snack. We sat chatting for around ten minutes and then started practising among ourselves. When Mr Gale called us over everyone was so excited the tournament would be decided in the final group stage matches. The boys first played Westminster Cathedral Choir School. We were winning 2-0 but all of a sudden, our opponents smashed in a goal to make it 2-1. We were a bit worried, but we still won 2-1.
We then played Thomas's Clapham A team again, having to make an amazing comeback from 2-0 down to win 5-2! This meant if we won or drew our final match, we would win the tournament!
Our sixth and final match was against Thomas's Fulham's A team. We were winning 2-0 but suddenly our opponents scored two amazing goals. The parents on the other team were talking about a comeback but we kept the ball and drew 2-2 which meant that we won the tournament!
There was a presentation and a speech at the end, announcing the winners, WUS! We each received a medal and even more exciting was that we won a shield which was the trophy for the tournament!
Aman was our amazing goalkeeper. He was one of the main reasons we didn't lose a single game and won the tournament. Sebastian and Hugo were the standout goal scorers, but Patrick and I also had lots of assists along with Arthur who was an absolutely outstanding defender who helped Aman massively throughout the tournament. Alexis also helped with lots of the goals created and was also a brilliant midfielder.
The best bit which all of the team enjoyed was when the winners were announced.
PS: Prince George was playing there too, although we didn't get to play against his team.